Words/kanji learned: 戻る: to come back いらっしゃる: to come, to go. To be doing (a previously connected verb). すべて: everything 解決する: to resolve, to settle 気を付けて: take care, be careful 無事に: safely 陣営: camp of supporters, battle camp たどり着く: to arrive
Today, we wrap up the conversation between モニカ and カタリナ. It's about 3 screens worth of dialogue – which is short by JRPG standards, but is still going to take a bit of time for me to parse through.
To set the scene: after the previous conversation, モニカ quickly changes into her adventuring outfit, and the two characters talk to each other a bit more: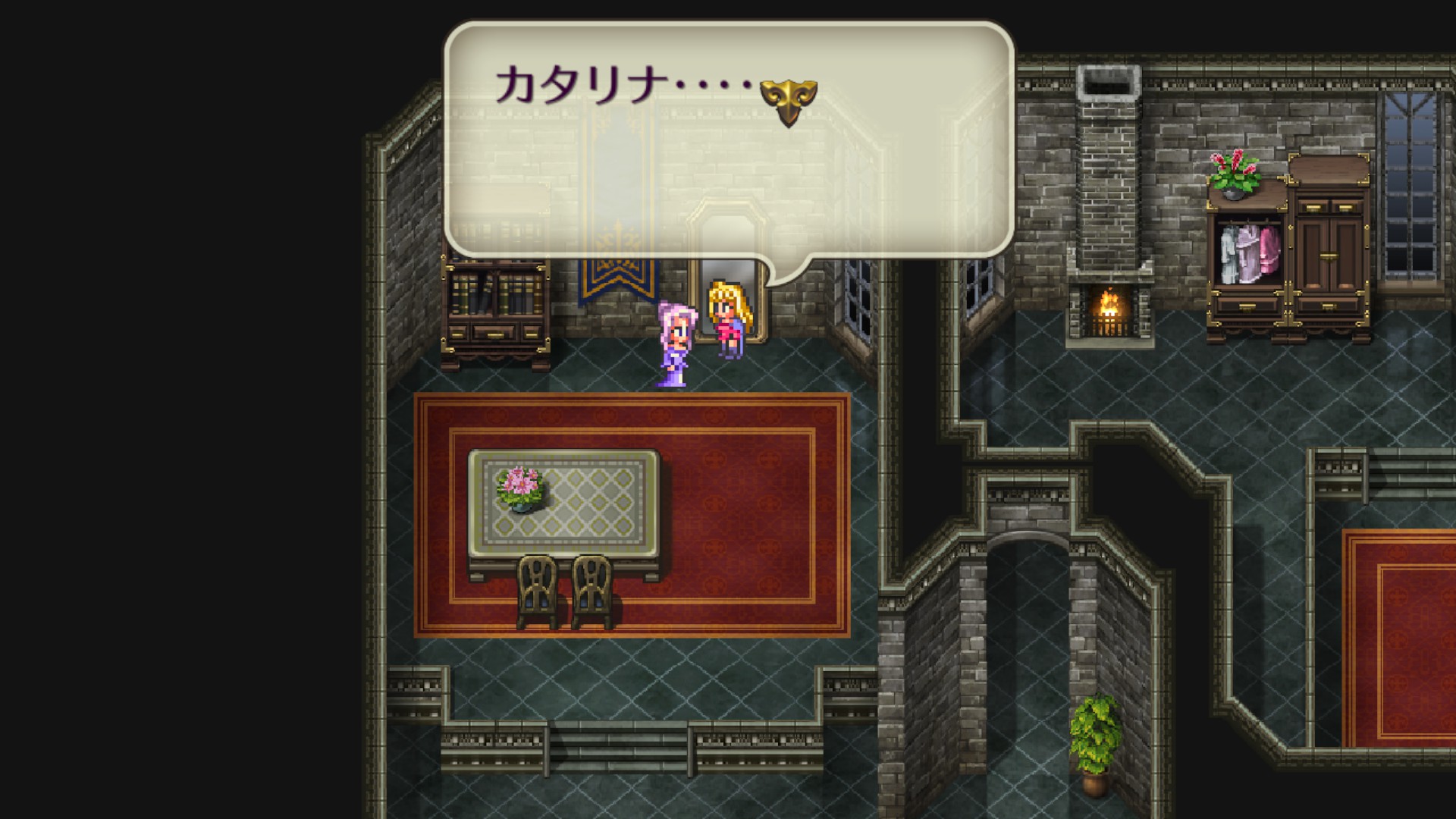 モニカ: 「カタリナ。。。。 お兄様が戻って いらっしゃれば、 すべて解決するわ。」 カタリナ: 「モニカ様も お気を付けて。 無事にミカエル様の陣営まで たどり着いてください。」
戻(もど)って: to come back. (Connective form of the verb 戻る.) いらっしゃれば: conditional form of いらっしゃる, which can mean "to come / to go" – but if it follows a "て" form verb (it does), it changes to "to be doing". But wait, what's this conditional form stuff? Here's a quick link, which I'll need to review later. But it basically means "if" is being applied to the verb here. すべて: everything. WaniKani taught me this as 全て, but Jisho says it's often written as kana alone. 解決(かいけつ)する: to resolve. 解決 is a noun meaning resolution, settlement. The する ending makes it a verb – する itself is an "irregular" verb that attaches to nouns just like this. Here's a good link about it. Katarina... my brother, if he returns, everything will be resolved.
お気を付けて。 気(き)を付(つ)けて: take care, be careful. Monica-sama should also be careful. (Even though カタリナ is speaking directly to モニカ, she still addresses her in third-person. It's more polite than using a "you" pronoun, but I need to look more into exactly why – and when you can still use "you" when needed.)
無事にミカエル様の陣営まで たどり着いてください。 無事(ぶじ)に: safely, successfully, without mishap. 陣営(じんえい): camp, but with the connotation that the people there are supporters. Can also mean military camp. たどり着(つ)いて: connective form of たどり着く, to arrive. Safely, up to Mikhail's camp, arrive – please.
And that finishes this conversation! もにか departs the room via a hidden exit in the mirror, and カタリナ has her own scheme to enact.
---
Author: @WolfeReader@freeradical.zone
Feel free to follow this blog! On Mastodon or other fediverse services, follow @a-new-japanese-learner-takes-on-jrpgs@qua.name , for RSS use https://qua.name/a-new-japanese-learner-takes-on-jrpgs/feed/ , and for the plain web view just use https://qua.name/a-new-japanese-learner-takes-on-jrpgs/