モニカとカタリナ part 1
Words/kanji learned: 部屋: room 大変: major incident, disaster どうしました: What's wrong, what's your emergency? 様: extremely polite suffix for a person's name それ: pronoun for a thing near the listener
The scene changes back to モニカ in the hallway. She's just overheard the plan that ゴドウィン and the Chancellor are enacting, including the part where they intend to capture her. Without any dialogue, she walks away from the throne room towards カタリナの部屋(Katarina's room – I learned 部屋(へや) from DuoLingo). (The route she takes is also helpful for us, since we see the layout of the castle. We'll need to know it.) She goes into Katarina's room, so at last we can see the character we've chosen to play as! The conversation begins: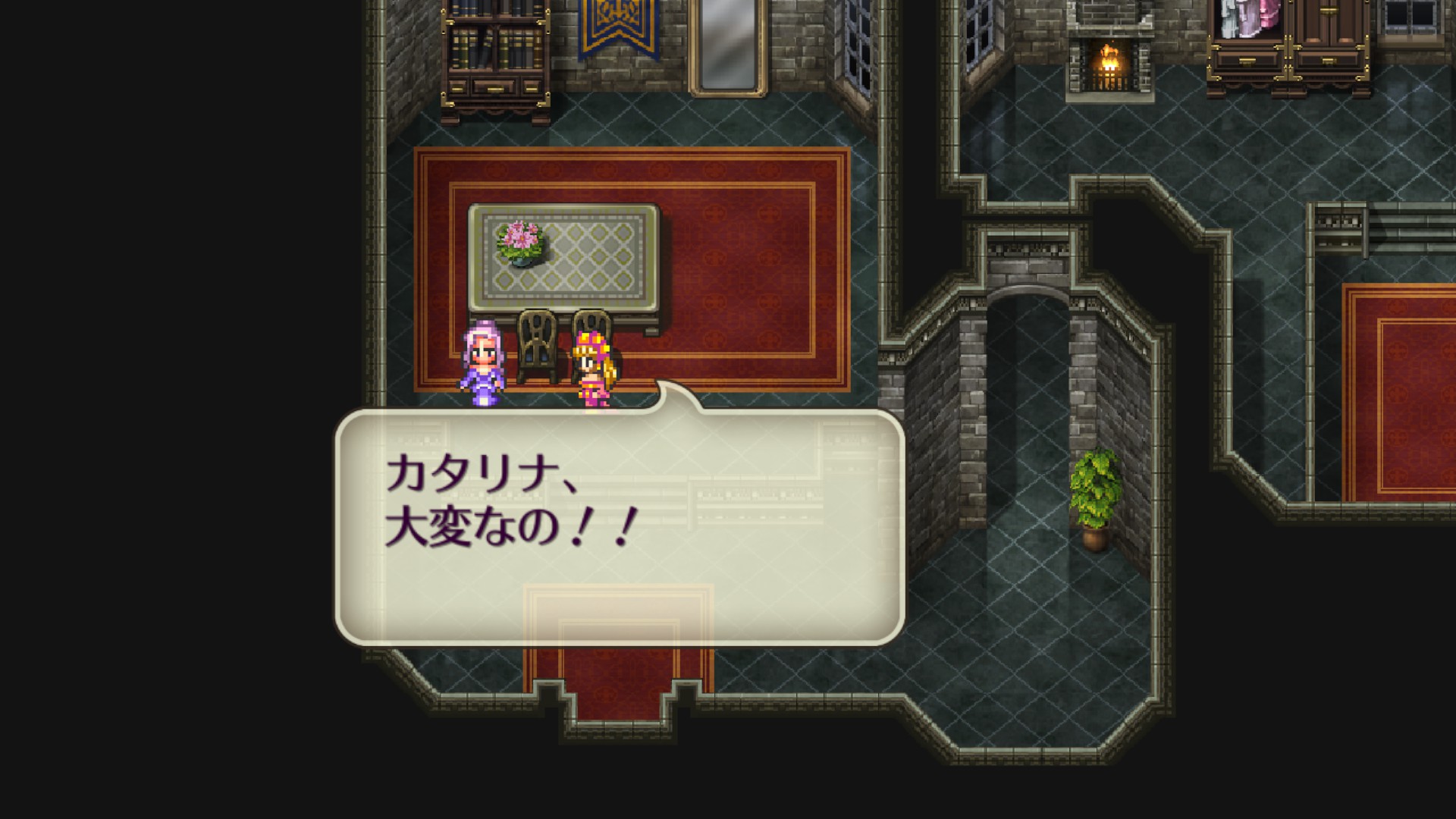 モニカ: 「カタリナ、大変なの!」 カタリナ: 「どうしました、モニカ様?」 モニカ: 「それが、ゴドウィン男爵と大臣が。。。」
(While looking these up, I discovered two different 漢字 that look very similar to my untrained eye: 様 and 樣. In this case, 様 is correct.)
カタリナ、大変なの! 大変(たいへん): as a noun, this is "major incident; disaster". It can also be an adjective or an adverb. The の at the end "nominalizes" the phrase, whatever that means. "Katarina, disaster!"
どうしました、モニカ様? どうしました: What's wrong, what's your emergency? 様(さま): the -sama suffix. カタリナ is addressing モニカと very politely.
それが、ゴドウィン男爵と大臣が。。。 それ: this is a pronoun for a thing near the listener, could be literally translated to English as "that" (although "that" has more meanings of course). 大臣: cabinet/government minister. This is in reference to the "chancellor" from the earlier entries. I called him "chancellor" because that's what he's named in the official English translation – but thanks to this project, I now know his true rank in the government of ロアーヌ! (He still doesn't seem to have a name, though.)
---
Author: @WolfeReader@freeradical.zone
Feel free to follow this blog! On Mastodon or other fediverse services, follow @a-new-japanese-learner-takes-on-jrpgs@qua.name , for RSS use https://qua.name/a-new-japanese-learner-takes-on-jrpgs/feed/ , and for the plain web view just use https://qua.name/a-new-japanese-learner-takes-on-jrpgs/