カタリナの装備
Words/kanji learned: 長弓: longbow 傷薬: potion/salve 精: spirit 霊石: magical stone 防具: armor 威力: weapon power 重量: weight 片手用: one hand use (three separate words) 特殊: special, particular 道具: tool 戦闘: battle 敵: opponent, adversary, menace, enemy 与える: to give (to someone of lower status)
Now, let's take a look at カタリナ's 装備! If we're going to go to the trouble of hiding it, and saving it, and re-equipping it, we should at least know what we're going through the effort for.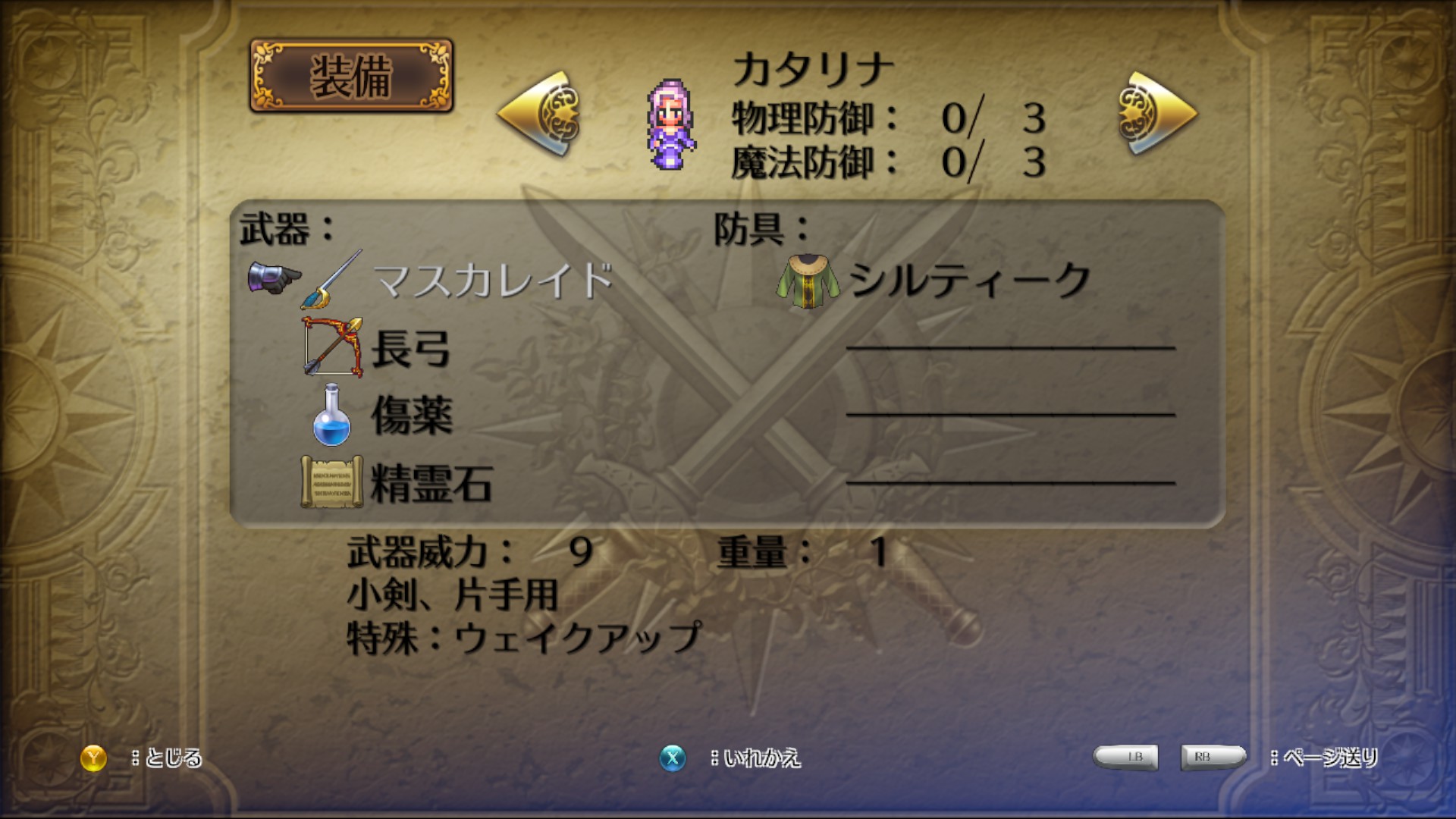 This screen is divided into two columns. The left column is for 武器, and the right is for "防具".
The first column: マスカレイド: the English word "masquerade", in カタカナ. It's an epee. 長弓(ちょうきゅう): longbow. Jisho claims that "ちょうきゅう" is the reading for this, but the Samsung 日本語 mode didn't offer those kanji as an option. 傷薬(きずぐすり): potion/salve. 精(せい)霊石(れいせき): two separate words. 精 means spirit (among other things, look it up), and 霊石 means magical stone.
The second column: 防具(ぼうぐ): defensive armament. Armor, basically. シルティーク: silk shirt. I get the shirt part, at least.
Underneath these columns is some data about the currently selected piece of equipment. Most of these things don't require any explanation, like the 長弓 or the 傷薬, but マスカレイド and the 精霊石 seem unique, so let's see what the item descriptions are for them!
マスカレイド: 武器威力:9 重量:1 小剣、片手用 特殊:ウエイクアップ
威力(いりょく): weapon power. 重量(じゅうりょう): weight. Each piece of equipment has weight, which affects how late the character acts each round. 片(へん)手(て)用(よう): one-sided, hand, use. Indicates that the weapon is one-handed, so the character can also use a shield alongside this weapon. 特殊(とくしゅ): special, particular. Indicates that the weapon has a special property – in this case, the カタカナ seems to say "wake up".
精霊石: 道具、片手用 戦闘で敵にダメージを与える
道具(どうぐ): tool 戦闘(せんとう): battle. We already learned this as part of 戦闘陣形, but now we see it by itself. 敵(てき): opponent, adversary, menace, enemy. ダメージ: damage 与える(あたえる): to give (to someone of lower status), to cause, to bestow, to provide, to supply, etc. Spirit magical stone: tool, one-handed. During battle, to the opponent/enemy, give damage.
Since マスカレイド is a unique and named item, we definitely want to stash it. We probably don't want it to fall into the hands of the enemy, right? So I'll do that, and proceed with a bit more gameplay next time!
---
Author: @WolfeReader@freeradical.zone
Feel free to follow this blog! On Mastodon or other fediverse services, follow @a-new-japanese-learner-takes-on-jrpgs@qua.name , for RSS use https://qua.name/a-new-japanese-learner-takes-on-jrpgs/feed/ , and for the plain web view just use https://qua.name/a-new-japanese-learner-takes-on-jrpgs/